Return to site
How to Reach Your Potential: An Interview with Sarah Chaudhery
Sarah Chaudhery is taking part in the "How to Reach Your Potential" initiative, an interview series featuring leaders who inspire Alex Rascanu and whose insights can help you reach your potential.
As a 6-year veteran of the Canadian National Rowing Team, Sarah Chaudhery's (nee Bonikowsky) athletic career includes silver and bronze World Cup medals, two National Championship titles, a fourth place finish at the 2008 Olympic Games and a bronze medal at the 2011 Pan Am Games. Now practicing as a paediatric occupational therapist, Sarah is passionate about encouraging all people, regardless of age or ability to pursue their dreams both inside and outside of sport. Sarah recently published a book about her Olympic experience titled, "The Justified Jock: Faith and the Olympic Journey."
Check out Sarah's website and book at www.thejustifiedjock.com, and connect with her on LinkedIn and Twitter.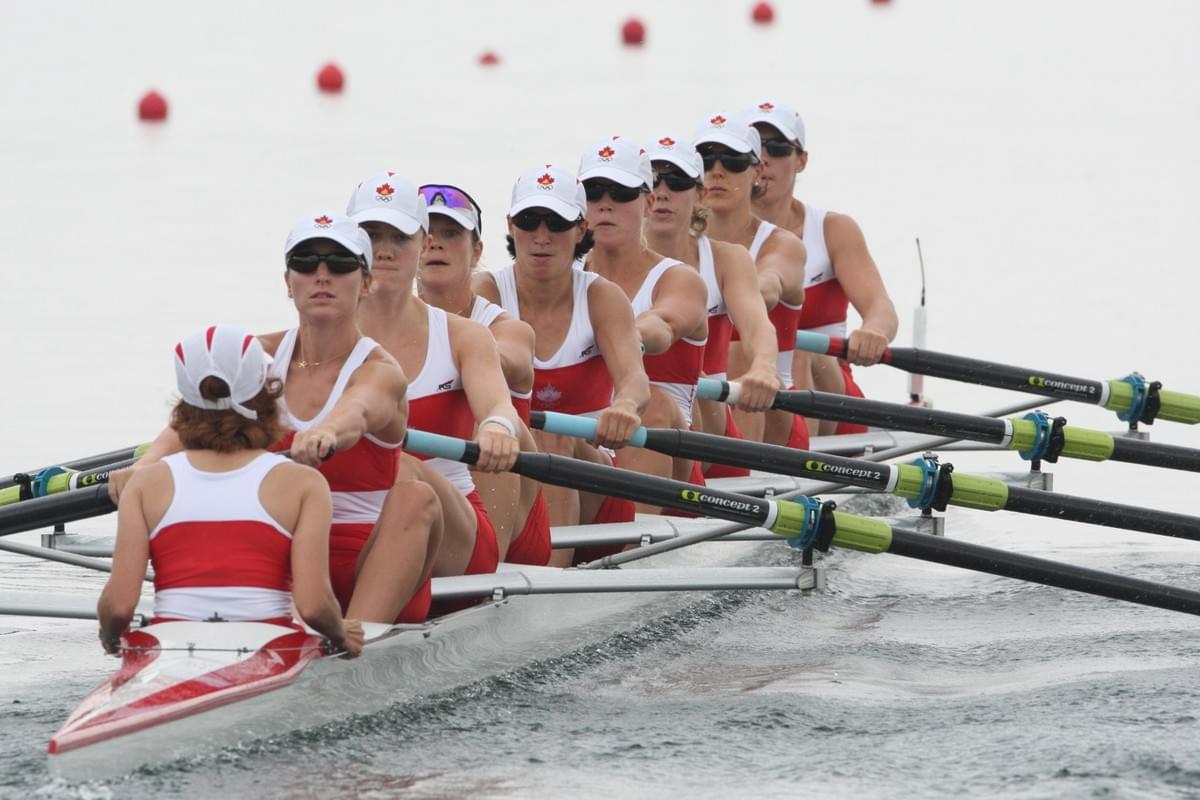 Alex: What is your life's purpose?
Sarah: Above all else, I believe that every person was created for a purpose. The goal of my life is to find the ways I should be putting my beliefs and my faith into action. If I haven't made a difference, lived in truth, loved others, and answered my callings, then I haven't really lived.
Alex: What are the three things you're most passionate about?
Sarah: At the core of my being, faith is what gives me my purpose in life. If we don't have hope, we don't have anything. Often people asked me how I got through Olympic training, competition, huge highs, and even greater lows. All I can say, is that training at that extreme level, broke me down to the point that I literally had to rely on God to get me through each day. It's what brought me back to my faith.
Secondly, my family! Both my husband and daughter reinforce that purpose and drive. I feel so blessed right now!
Thirdly, I have always had this deep-seated burning desire for real justice and opportunity for people with different abilities. I grew up with a close family friend who has autism, and one of my first jobs as a teenager was working with a boy with Down Syndrome. Those two people changed my life forever!
Alex: How do you stay healthy? What's your main health-related goal?
Sarah: Oh man… this is hard for me to answer right now as I re-develop this whole side of my life. Exercise used to be such an extreme for me. It bothered me that Olympians were praised for their dedication and commitment, but at the same time the level of activity is at such an unhealthy extreme. Exercise became something that was always quantified, judged, and measured (literally) to the minute. I had to record how many minutes each day I spent in different heart rate zones, and had to make sure I spent 18 hours a week at my base cardio level. That didn't include sprinting workouts, weight training or pilates. When I retired from rowing, I struggled with really bad migraines. If I didn't work out fairly regularly and intensely for the first 3 years, I would get these crazy migraines and not even be able to go to work (once for 3 days straight!)
Staying healthy for me has been finding the balance of new motivators; new sports (I have always been crazy about cycling… even before rowing!) and setting new goals that are healthy and appropriate. Then I had a baby and had to change all of that again. Now I've gone back to work and had to change it yet again… I'm still learning what healthy looks like with a little person and a job in the mix! I can't just workout when I want to anymore. Everything has to be planned for! It took me a long time to accept exercise in little pieces. For a long time, if I couldn't workout for at least an hour, it didn't 'count' for me. And because it didn't 'count', I couldn't even get started. Now my mindset is like, "Okay. If we go to the park after work, I can put my daughter Zoë in the stroller and I can run there. Maybe today we'll go to the further park." I also use an activity monitor to track steps and stairs, something, which I used to think, was ridiculous. But I find it helps me make small choices about taking the longer route, or taking the extra stairs, or parking further away, and hopefully that counts for something, right?
Alex: How do you build wealth? What's your main financial goal?
Sarah: I think the smartest thing I did was setting up an RESP for Zoë right away and shifting almost all of her baby bonus money into it each month. A little bit goes into our TFSA (we figured that buying a house was worth it for Zoë too!) It took me a long time to start my own RRSP, (I wasn't eligible as an amateur athlete) but now that's an automatic withdrawal too. I think if you can make it automatic, then you don't 'miss' the money as much. We also believe strongly in giving at least 10% of our income back to church, and support other charities and causes that are important to us throughout the year. I worked for 3 years in a totally charitable organization, and I raised a lot of my own salary through donations. It taught me that there are different types of investment. At the end of your life, you want to know that you invested in other people. It's really the best way to maximize your impact. We can't all be the hands-on well builder in Africa, but think about the change you can affect in a whole community through those that are the hands and feet on the ground! So I guess what I'm coming around to again, is that sense of purpose. If I feel that I have been able to achieve my purpose, to take care of my family and to take care of others, than that's money well invested!
Alex: How do you balance work and family life?
Sarah: Well… I'm sacrificing a bit of sanity right now, that's for sure. I have a flexible work schedule, but my husband works the longer hours in the job with the steadier income and benefits. I really admire his ability to just do his job! He's been at his company for 20 years now! I usually work from about 9:30 – 3:30 (I work in a lot of different schools) and then try to get Zoë early from daycare so we can have some quality time at home together. After she goes to bed, I do my paperwork each night from 9pm – midnight. Sometimes I feel like I'm burning the candle at both ends, but at the same time, I'm also the most productive and creative at night. I kind of enjoy the quiet of the house when everyone's in bed.
Alex: How do you enjoy spending time with family and friends?
Sarah: My favourite day of all is Saturday morning! My husband Joe makes us breakfast, and we do the crossword together like a bunch of nerds, and Zoë sits on his lap and colours. Oh, and there's lots of coffee. That's heaven to me! Also, I grew up in the Mono Cliffs Provincial Park. My family does a lot of hiking together. The Cliffs are very central to us!
Alex: What has been the most fulfilling role you've ever had, or the most fulfilling project you've been involved with so far?
Sarah: Oh man… that's a hard one to answer for me. The Olympics defined and changed my life forever in ways I could never have imagined. But at the same time, the experience and the end results were tough. We were fourth in 2008 by 0.72 of a second. Any one thing could have changed that day and we would be medalists.
Next I moved into a role that was definitely a calling and a passion project. I was the Director of Operations for More Than Gold, and facilitated involvement of hundreds of volunteers, churches and organizations in the 2015 Pan Am Games. That was fulfilling and immensely challenging. I learned so much that I will take with me forever. A Director of Operations has to know so many things! I felt vastly underprepared, but the outcomes were so amazing to see.
But now, I feel like I am really living out my dream. I'm finally satisfying that inward, burning desire to work with kids with different abilities that has always been inside of me. All of my kids are so unique and funny and different. Because I work in paediatrics, I see a lot of kids that are still undiagnosed. We are all trying to figure out how to help them be their best, and we aren't limited by a whole lot of extra info or opinions. It's a privilege to walk this part of a kids' life with them.
Alex: What's one career planning lesson that has made a significant difference in your life?
Sarah: When I retired from sport, all of my coaches were telling me how well set up I would be to find a job. Everyone was telling us that Olympians had all of these great qualities that would make them amazing candidates for any job. All of this is true, however it didn't play out like that, and doesn't for most athletes. We sacrifice a lot of real-world experience for sport, and many athletes have put off education as well. I was trying to move into the healthcare field, but I had spent two more years after I graduated, trying out for the 2012 Olympics, and had this gap of practical experience. No one cared about the Olympics… just that I didn't have 3 – 5 years of direct experience. I put out 50 resumes and didn't even get one interview.
I learned that careers are just like sports too. You have to build up from the bottom. It's hard. Experience matters, and you have to earn it. There are no shortcuts. Within my career now, I am very excited about all of the professional development opportunities that are coming up. There's so much room to grow, and I'm so passionate now about becoming a really good, confident and effective therapist. But they are all skills that need to be practiced!! It was really, really hard to come to terms with being at the very top of one part of my life, and then the very bottom of the next. But if you aren't willing to acknowledge that, then you might not even get the opportunity to take that first step where you need to start.
Alex: What would you like your legacy to be?
Sarah: I hope the people that I've interacted with, and kids that I've worked with, will come away with a feeling of hope. I want people to think, "Wow, she really got me. She really listened." I hope I can continue to start fresh with each person, and never be the person who limits their abilities, but instead lifts them up. I want them to have the same sense of hope and purpose that I've found!
Alex: Thank you, Sarah, for taking part in the interview! Thank you for your openness and insights!
Did you find one or more of Sarah's insights helpful? Are there any ideas or resources that came to mind as you read the interview?
Please share your thoughts and feedback in the comments section below, and consider sharing the interview with a friend via social media or email.